Fuse
During 2004 the group started working on a curated exhibition, encouraging collaboration between artists.
Fuse was shown in June/July. This innovative and thought provoking event had a more 'grass roots' flavour than Cleanse, and was a great success. Particular highlights being the 'living sculpture' and a wonderfully hilarious interactive sound installation.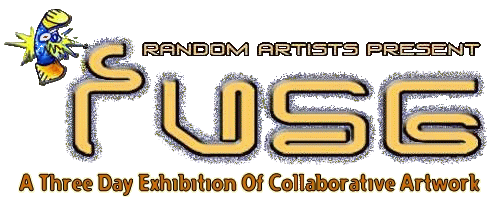 This exhibition was an experimental culmination of experience, where the self-sufficient collective put curation into operation, spending the better part of six months collaborating on ideas to make this a show of Random Artists own artwork. Fusing paintings, soundwaves, performance, installations and photography to create regenerated environments where the imagination finds a playground.
Manipulating our glowing toys of electrical impulses, are we the machines? Transfusing the breaking world by taking what we want from the discarded and reapplying it to our own creations. The theme is not environment, the concept is not mechanarky and the buzzword is not zones.